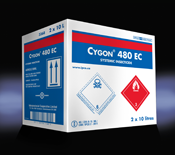 Cygon® 480 EC
Cygon 480 EC is a systemic insecticide containing dimethoate. Cygon is registered on several flowering plants, ornamental shrubs, trees, vegetables, fruit and field crops. Cygon 480 EC controls several insects, including grasshoppers, aphids, lygus bugs, leafhoppers and spider mites.
Active Ingredient / Group
Dimethoate / Group 1B Insecticide
Key Crops
Alfalfa (seed and forage)
Wheat (Spring, Winter)
Barley
Fruit and vegetable crops
Ornamentals
Key Insects
Always refer to the label for complete recommendations.
Download and review important information about this product.
Product Label
Safety Data Sheet