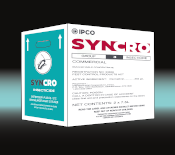 IPCO Syncro
Syncro Insecticide is a reliable solution for control of flea beetles, including striped flea beetles and cutworms in canola as well as cutworms in cereals, corn, flax, lentils, peas and sunflowers.
Active Ingredient / Group
Permethrin 384 g/L/Group 3 Insecticide
Key Crops
Canola
Cereals (Wheat, Oat, Barley)
Corn
Lentils
Peas
Flax
Potatoes
Sunflowers
Sweet Corn
Cole Crops (cabbage, cauliflower, broccoli, brussels sprouts)
Key Pests
Crucifer flea beetle
Striped flea beetle
Cutworms (army, black, dark-sided, pale western, red-backed, white)
Cabbage looper
Diamondback moth
Imported cabbage worm
Diamondback
Moth larvae
European corn borer
Corn earworm
Colorado potato beetle
Potato flea beetle
Potato leafhopper
Tarnished plant bug (lygus bug)
Variegated (climbing) cutworm
Always refer to the label for complete recommendations.
Download and review important information about this product.
Product Label
Safety Data Sheet