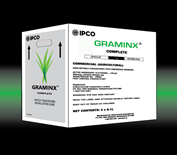 GraminX®Complete
GraminX® Complete is a post-emergent herbicide with the adjuvant built-in for control of grasses in canola, pulse, flax and other broadleaf crops.
Active Ingredient / Group
Clethodim 120 g/L / Group 1 Herbicide
Key Crops
Canola
Pulses
Flax
Seedling alfalfa
Soybean
Sunflower
Key Weeds
Wild oat
Green foxtail
Yellow foxtail
Barnyard grass
Quack grass
Volunteer barley
Volunteer oat
Volunteer wheat
Volunteer corn
Always refer to the label for complete recommendations.
Download and review important information about this product.
Product Label
Safety Data Sheet