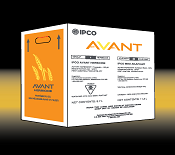 Avant
IPCO Avant Herbicide is a post emergence herbicide for the control of wild oats, green foxtail, yellow foxtail, persian darnel, volunteer oats, volunteer canary seed, proso millet and barnyard grass in Spring Wheat, Durum Wheat and Barley.
Active Ingredient / Group
Pinoxaden / Group 1 Herbicide
Key Crops
Spring Wheat
Durum Wheat
Barley
Key Weeds
Wild oats
Green foxtail
Yellow foxtail
Persian darnel
Volunteer oats
Volunteer canary seed
Proso millet
Barnyard grass
Always refer to the label for complete recommendations.
Download and review important information about this product.
IPCO Avant Herbicide Label
IPCO MSO Adjuvant Label
IPCO Avant Herbicide SDS
IPCO MSO Adjuvant SDS