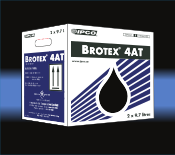 Brotex® 4AT
A post-emergent broadleaf herbicide (containing Bromoxynil) for use in wheat (spring and winter), barley, oats, flax (including low linolenic varieties), corn, fall rye, canary grass (for seed production), triticale, garlic, seedling grasses, zero till and seedling Alfalfa (established alfalfa for seed production only). Brotex® 4AT controls wild mustard, Lady's Thumb, green smartweed, stinkweed, common ragweed and many other broadleaf weeds.
Active Ingredient / Group
Bromoxynil (Present as an Ester) 480 g/L/ Group 6 Herbicide
Key Crops
Wheat (Spring, Winter)
Barley
Oats
Corn
Summer fallow
Key Weeds
Buckwheat (wild/common)
Lambs' Quarters
Lady's Thumb
Smartweed
Cocklebur
Always refer to the label for complete recommendations.
Download and review important information about this product.
Product Label
Safety Data Sheet