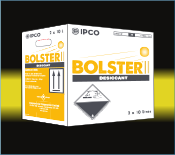 Bolster® II
Bolster®II desiccant is a Diquat herbicide used to dry immature green material at top of indeterminate crops and green weeds to facilitate harvest. Bolster® II will not speed maturity of green crops. Bolster®II is to be used with a non ionic surfactant such as IPCO Ag Surf®Original, IPCO Surfactant NI for application for potato vine killing, desiccation of pulse crops (such as lentils, peas and soybeans).
Active Ingredient / Group
Diquat ion 240 g/L / Group 22 Herbicide
Key Crops
Canola
Lentils
Peas
Dry Beans
Always refer to the label for complete recommendations.
Download and review important information about this product.
Product Label
Safety Data Sheet