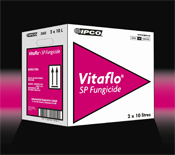 Vitaflo® SP
Vitaflo® SP Fungicide is a seed protectant for use on wheat, barley, oats, triticale, flax, and corn for the control of smuts, common bunt, seedling blights and many other diseases.
Active Ingredient / Group
Carbathiin, Thiram / Group 7 Fungicide
Key Crops
Wheat (Spring, Winter)
Barley
Oats
Soybeans
Lentils
Key Diseases
Smuts
Bunts
Seedrot/seedling blight
Seed borne Septoria
Always refer to the label for complete recommendations.
Download and review important information about this product.
Product Label
Safety Data Sheet