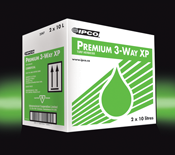 Premium 3-Way XP
Premium 3-Way XP is a post-emergent herbicide for the control of hard to kill broadleaf weeds such as dandelion and clover in lawns and turf. Premium 3-way XP can be applied in early spring and mid summer for control of most weeds.
Active Ingredient / Group
2,4-D, Mecoprop-P, Dicamba / Group 4 Herbicide
Key Crops
Turf
Golf courses
Sod farms
Various lawn areas
Key Weeds
Dandelion
Ground ivy
Plantain
Clover
Always refer to the label for complete recommendations.
Download and review important information about this product.
Product Label
Safety Data Sheet