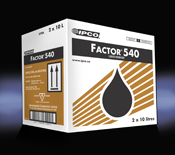 Factor® 540
Factor® 540 is a higher concentrated formulation of glyphosate for non selective weed control in most crop systems. Factor® 540 is a water soluble herbicide for the control of broadleaf and grass weeds in pre-seed, chem fallow, pre-harvest and post harvest applications. Factor®540 is also registered for weed control in glyphosate tolerant crop varieties with the Roundup Ready® gene, such as canola, soybeans and corn.
Active Ingredient / Group
Glyphosate (Present as Potassium Salt) / Group 9 Herbicide
Key Crops
RR Canola
RR Soybeans
RR Corn
Pre-seed/pre-harvest/post-harvest
Chem-fallow
Key Weeds
Annual broadleafs
Annual grasses
Perennial broadleaf
Perennial grasses
Always refer to the label for complete recommendations.
Download and review important information about this product.
Product Label
Safety Data Sheet