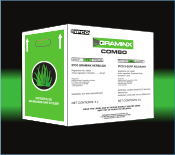 GraminX®
GraminX®herbicide is a selective post-emergent herbicide for broad-spectrum grassy weed control in canola, flax and pulses.
Active Ingredient / Group
Clethodim 240 g/L / Group 1 Herbicide
Key Crops
Key Weeds
Wild oats
Volunteer cereals
Foxtail
Quack grass
Always refer to the label for complete recommendations.
Download and review important information about this product.
GraminX®Product Label
X-Surf®Product Label
GraminX®Safety Data Sheet
X-Surf®Safety Data Sheet