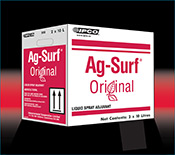 IPCO Ag Surf® Original
IPCO Ag Surf® Original is a non-ionic surfactant that improves the wetting, sticking and penetration characteristics of many insecticides, fungicides and herbicides, such as Simplicity Go-Dri.
Active Ingredient / Group
Compatible Products
Glyphosate
Reglone
Sulfonyl urea
Always refer to the label for complete recommendations.
Download and review important information about this product.
Product Label
Safety Data Sheet