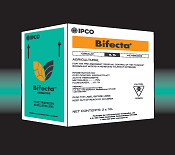 IPCO Bifecta® EZ
A pre-emergent residual herbicide for control of certain weeds in soybeans and spring wheat.
Active Ingredient / Group
Metribuzin 347 g/L/Group 5 Herbicide
Flumioxazin 77.6 g/L/Group 14 Herbicide
Key Crops
Soybeans
Field Peas
Lentils
Spring Wheat
Key Weeds
Barnyard grass
Canada fleabane
Green smartweed
Johnson grass
Common chickweed
Kochia
Lamb's-quarters
Lady's-thumb
Common ragweed
Large crab grass
Common waterhemp
Palmer amaranth
Dandelion
Prickly mallow
Eastern black nightshade
Redroot pigweed
Fall panicum
Russian thistle
Giant foxtail
Cocklebur
Green and Yellow foxtail
Green pigweed
Shepherd's purse
Velvetleaf
Wild buckwheat
Wild mustard
Witch grass
Always refer to the label for complete recommendations.
Download and review important information about this product.
Product Label
Safety Data Sheet