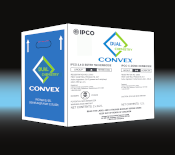 IPCO Convex
Pre-seed burndown herbicide with broadleaf weed control ahead of cereals and field corn.
Active Ingredient / Group
Carfentrazone-ethyl 240 g/L/Group 14 Herbicide
2,4-D (present as 2-ethylhexyl ester) 660 g a.e./L/Group 4 Herbicide
Key Crops
Barley
Rye
Wheat (spring wheat/winter wheat)
Field Corn
Key Weeds
Canada fleabane (less than 8 cm in height)
Lady's thumb
Green foxtail
Giant foxtail
Common ragweed
Russian pigweed
Wild Radish
Sweet Clover (seedling)
Mustards (except dog mustard)
Wild buckwheat
Wild oats
Narrow-leaved Hawk's beard (1-2 leaf stage)
Annual Sow thistle
Volunteer barley
Volunteer wheat
Quackgrass
Crab grass
Dandelion (less than 15 cm)
Prickly Lettuce
Always refer to the label for complete recommendations.
Download and review important information about this product.
2,4-D Ester 700 Label
C-Zone® Label
2,4-D Ester 700
Safety Data Sheet
C-Zone®
Safety Data Sheet