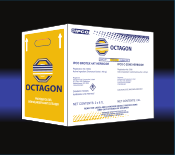 IPCO Octagon®
Octagon® herbicide is a pre-seed product with two active ingredients that provides two modes of action for use with glyphosate ahead of planting Canola.
Active Ingredient / Group
Bromoxynil 480 g/L / Group 6 Herbicide and Carfentrazone-ethyl 240 g/L / Group 14
Key Crops
Key Weeds
Chickweed
Smartweed
Wild buckwheat
Cleavers
Shepherd's purse
Kochia
Annual sow thistle
Tansy mustard
Lambs quarter
Flixweed
Redroot pigweed
Dandelion (spring)
Horsetail
Volunteer canola
Always refer to the label for complete recommendations.
Download and review important information about this product.
Brotex® 4AT Label
C-Zone® Label
Brotex 4AT®
Safety Data Sheet
C-Zone®
Safety Data Sheet