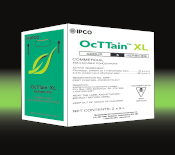 IPCO OcTTain XL
IPCO OcTTain XL Herbicide provides postemergence control of a broad spectrum of broadleaf weeds including cleavers, kochia and wild buckwheat in spring wheat, durum wheat, winter wheat and spring barley.
Active Ingredient / Group
Fluroxypyr 90 g a.e./L/Group 4 Herbicide
2,4-D (present as 2-ethylhexyl ester) 360 g a.e./L/Group 4 Herbicide
Key Crops
Wheat (Spring, Winter, Durum)
Spring Barley
Key Weeds
Canola (volunteer)
Cleavers (1-8 whorls)
Clovers (sweet)
Cocklebur
Flixweed
Kochia (including group 2 resistant biotypes)
Lamb's-quarters
Mustards (except green tansy, dog & grey tansy)
Ragweed
Round-leaved mallow (1-6 leaf)
Shepherd's-purse
Stinkweed
Sunflower (annual)
Vetch
Wild buckwheat (1-6 leaf)
Wild radish
Volunteer flax (1-12 cm)
Always refer to the label for complete recommendations.
Download and review important information about this product.
Product Label
Safety Data Sheet