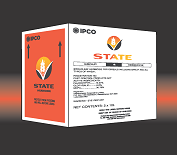 IPCO State
Annual and perennial broadleaf postemergence control in cereal crops.
Active Ingredient / Group
MCPA (present as 2-ethylhexyl ester) 210 g/L/Group 4 Herbicide
Fluroxypyr (present as 1-methylheptyl ester) 77 g/L/Group 4 Herbicide
Clopyralid 60 g/L/Group 4 Herbicide
Key Crops
Wheat (Spring, Winter, Durum)
Spring barley
Oats
Key Weeds
Burdock Ragweed
Canada thistle (low infestations)
Shepherd's purse
Cleavers (1-8 whorls)
Stinkweed
Cocklebur Stork's-bill (1-8 leaf)
Field horsetail (top growth control only)
Sunflower, annual
Sunflower, volunteer
Flax, volunteer (1-12 cm)
Flixweed (spring seedling 2-4 leaf)
Vetch
Kochia
Wild buckwheat (1-8 leaf)
Lamb's-quarters
Wild mustard
Plantain (top growth control only)
Wild radish
Prickly lettuce
Always refer to the label for complete recommendations.
Download and review important information about this product.
Product Label
Safety Data Sheet