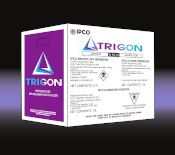 IPCO Trigon
Trigon herbicide is a pre-seed product with three active ingredients for use with glyphosate ahead of planting Canola to help manage resistant weeds, including early extended control of cleavers.
Active Ingredient / Group
Bromoxynil (present as an ester) 480 g/L/Group 6 Herbicide
Carfentrazone-ethyl 240 g/L/Group 14 Herbicide
Clomazone 360 g/L/Group 13 Herbicide
Key Crops
Key Weeds
Cleavers
Kochia
Common Chickweed
Morning glory
Nightshade, Eastern black
Annual Sow Thistle
Smartweed (Green, Pale)
Wild Buckwheat
Narrow leaved hawk's Beard
Lamb's-quarters
Volunteer Canola (all biotypes)
Russian Thistle
Dandelion (spring germinated)
Velvetleaf
Waterhemp (up to 5 cm tall)
Always refer to the label for complete recommendations.
Download and review important information about this product.
Clomazone Label
Brotex®4AT Label
C-Zone®Label
Clomazone
Safety Data Sheet
Brotex®4AT
Safety Data Sheet
C-Zone®
Safety Data Sheet