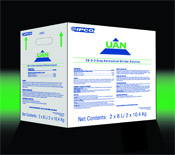 IPCO UAN (28-0-0)
UAN is a 28-0-0 urea ammonium nitrate solution used in agricultural crop production. Use in accordance with recommendations of a qualified individual or institution such as, but not limited to: a certified crop advisor, agronomist, university crop extension publication; or apply according to recommendations in your approved nutrient management plan. IPCO UAN is available in 2 x 8 Litre cases and 160 Litre Poly drums c/w Dip Tubes.
Mixing Instructions: Fill application tank half full with water and start agitation. Add the proper amount of UAN, continue filling with water and continue agitation until all solution has been applied. Nitrogen solutions left standing for long periods of time should be agitated before application to ensure even distribution.
Always refer to the label for complete recommendations.
Download and review important information about this product.
Product Label
Safety Data Sheet