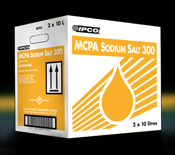 MCPA Sodium Salt 300
A post-emergent broadleaf herbicide in spring wheat, barley, rye, oats, winter wheat, fall rye, peas and flax. MCPA Sodium Salt 300 controls many of the mustards, stinkweed and Lambs' Quarters – as well as suppression of hard to kill weeds.
Active Ingredient / Group
MCPA (Present as Sodium Salt) / Group 4 Herbicide
Key Crops
Wheat (Spring, Winter)
Barley
Oats
Flax
Rye (Spring, Fall)
Key Weeds
Kochia
Lamb's Quarters
Curled dock
Redroot Pigweed
Stinkweed
Always refer to the label for complete recommendations.
Download and review important information about this product.
Product Label
Safety Data Sheet