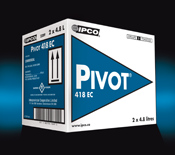 Pivot® 418 EC
Pivot® 418 EC is a broad spectrum systemic fungicide for control of a wide range of diseases on several crops, including spring and winter wheat, durum, barley, oats, canola, corn, soybeans (grown for seed), canary seed.
Active Ingredient / Group
Propiconazole / Group 3 Fungicide
Key Crops
Wheat (Spring, Winter, Durum)
Barley
Oats
Edible beans
Key Diseases
Septoria
Rust (leaf, stem, stripe)
Tan spot
Black leg
Corn leaf blight
Always refer to the label for complete recommendations.
Download and review important information about this product.
Product Label
Safety Data Sheet