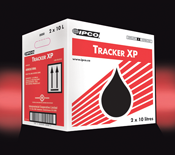 Tracker® XP
A post-emergent broadleaf herbicide for Wheat (spring, durum and winter), Barley, Oats, stubble fields, summerfallow and Annual Canary Grass. Tracker® XP controls buckwheat (wild & tartary), kochia, hempnettle, supression of Canada Thistle, cleavers, common ragweed, green smartweed, mustards and many others. Tracker® XP may be tank mixed with Legend or Horizon NG® for the control of many broadleaf weeds and green foxtail/wild oats – in wheat only.
Active Ingredient / Group
MCPA, Mecoprop-P, Dicamba (Present as Dimethylamine Salt) / Group 4 Herbicide
Key Crops
Wheat (Spring, Winter, Durum)
Barley
Oats
Canary seed
Chem-fallow
Key Weeds
Wild buckwheat
Kochia
Cleavers
Volunteer canola
Redroof pigweed
Always refer to the label for complete recommendations.
Download and review important information about this product.
Product Label
Safety Data Sheet